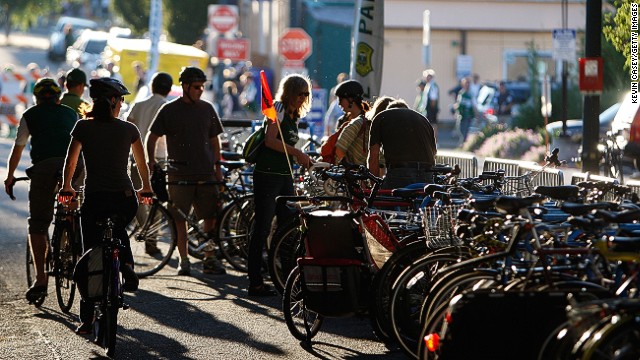 Portland, Oregon. Image from CNN Travel
CNN Travel have listed eight (8) best cycling cities in the world, and it includes only one U.S. city which is Portland, Oregon.
Portland, Oregon boast bike friendly infrastructure that includes 65 miles of bike paths, 30 miles of low-traffic bike boulevards and 175 miles of bike lanes. Portland has also a grand Bicycle Plan for 2030 that will make it the bike capital of the United States. The plan is to attract more people to ride the bicycles that will form a denser bike network. They also plan to reduce vehicle speed limits on designated streets to increase safety for cyclists, and add more bicycle parking.
They are also planning to open the Tilikum Crossing (Bridge of the People) in 2015 that will cross the Willamette River. It will have two 14-foot-wide pedestrian and bike lanes.
Here are the of the Cities that are on the list:
Utrecht, Netherlands - It's the worlds most convenient city for cyclists, "up to 50% of all journeys take place in the saddle and local authorities are building a 12,500-space cycle parking facility billed as the world's biggest."
Seville, Spain - They have built a total of 80 miles of bicycle lanes and they have established a municipal bike rental plan named Sevici.
Montreal, Canada - They have built almost 400 miles of bike paths. They have a bike sharing plan called Bixi.
Copenhagen, Denmark - the city has a immense infrastructure for cycling. They have a segregated bike infrastructure that has bike lanes with a width of three (3) meters.
Berlin, Germany - Cycling in Berlin is becoming more popular with 13% of all trips in the city are now with the use of bikes, which is nearly twice the rate 20 years ago.
Tokyo, Japan - Tokyo is a very densely populated city and 14% of all travels are made using a bike since people here prefer travelling using a bike instead of a car for shorter journeys.
Bogota, Colombia - they close 70 miles of city streets during Sunday for Ciclovia. Maybe, the drug cartels love to travel by bike which is why CNN travel included Bogota.......just kidding.
Here is the full report from CNN.